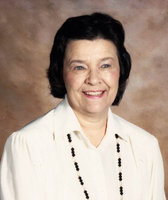 Rita Christel Knouse
Rita C. Knouse (nee Christel), of Hatboro PA, passed away on December 12 surrounded by her family. She was 92.
Born and raised in Wyomissing, PA, Rita brought her good cheer, warmth, beauty, and can-do approach to all that she touched. At Wyomissing High School she was a cheerleader and member of numerous clubs, and developed a core group of lifelong friends. Following graduation, Rita made the bold decision to move to Philadelphia and began working for Curtis Publishing Company. She continued to work after her marriage in order to support her husband's fledging dental practice, stopping when she became a mother to Mark, Lynn, and Kim. She was a loving and supportive mother, mother-in-law, and grandparent, and took enormous pride in her family.
A resilient woman, Rita re-entered the workforce in mid-life and worked at various positions until her early 80s. As a resident of Gloria Dei Farms for 18 years, she participated in many activities, eventually becoming President of the Resident's Association. Rita prized a good sense of humor, listening to music, reading her daily newspaper, entertaining, holiday decorating, and spending time with friends and family. She also had the uncanny ability to find the perfect gift and was the master of thank you notes.
A member of Abington Presbyterian Church for more than 50 years, she had a strong and thoughtful faith.
Rita is survived by her 3 children: Mark Knouse, MD (Judy) of Allentown, PA, Lynn Brinker (Mark) of Columbia, MD, and Kim Beidler (Andy) of Yardley PA, as well as 8 grandchildren: Kristin Knouse, MD/PhD, Bryan Knouse, Melissa Knouse, Christopher Brinker, Kevin Brinker, Kyle Brinker, Sam Beidler and Peter Beidler. She was predeceased by her parents: Leo and Theresa Christel (nee Schneidenwind); her 5 siblings Jude, Leo, Jack, Monica and Barbara; and her former husband, Walter E. Knouse, DDS.
A memorial service will be held on Saturday, December 21 at 1:00 PM at Abington Presbyterian Church, Old York and Susquehanna Roads, Abington, where relatives and friends will be received after the service. Interment will be private.
Donations in her memory are suggested to Abington Presbyterian Church, 1082 Old York Road, Abington, PA 19001, Abington Hospital – Jefferson Health, Development Office, 1200 Old York Road, Abington, PA 19001, and the Gloria Dei Foundation, 3501 Masons Mill Road, Suite 403, Huntingdon Valley, PA 19006.