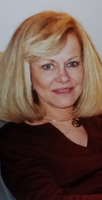 Maureen Lyons
Maureen Elizabeth Lyons, a resident of Doylestown, Pennsylvania, died on November 13, 2019, at the age of 78. She was born in Pittsburgh, Pennsylvania, the second of five beloved children of the late Joseph and Marcella (nee Howley) Hartney. She lived at Greenleaf Nursing & Convalescent for the last four years where her nursing team truly loved and cared for her. They especially loved her regular singing and dancing while in their care.
Maureen graduated Saint Marie Goretti Catholic High School in South Philadelphia. After marrying her former husband, John Lyons of Philadelphia, they raised three children -- Stephen, Colleen, and the late Karen. While raising her family she also worked full-time and, at times, held various part-time jobs to make ends meet. She worked full-time at several Philadelphia-area hospitals as an admissions and billing assistant. She also worked part-time flipping pizza at a local pizza parlor where her daughters were also scooping water ice just outside. She later obtained her beautician's license to cut hair, during her preparation for which she accidentally cut her son Stephen's ear. Maureen also worked at the Palace Roller Skating Center in Northeast Philadelphia where she managed the business office and admission to the rink. She spent many hours working at the skating center on weekends to encourage her daughters Colleen and Karen to become skating superstars!
Throughout her life, Maureen enjoyed skating, dancing, and singing. Her joy was irresistible, as she was always the first person at gatherings to get people up dancing and having fun. This too continued well into her residency at Greenleaf. She also enjoyed vacationing with her family and friends in the Pocono Mountains and at beaches in Wildwood, New Jersey.
Maureen's brother Joseph Hartney and sisters Roberta Waugh and Kathleen Hartney survive her, and her late brother John Hartney predeceased her. She especially cherished her four loving and talented grandchildren -- Jack, Joshua, Lauren, and Charlie. She always enjoyed their welcoming company when they would visit her at the nursing home and was eager to catch up on the latest news. Maureen has been there every step of the way for each of her grandchild's lives by sharing many memorable moments. From being in charge of diaper duty to attending middle school graduations, she has been there and supported them in their efforts.
Forever is Maureen's love, as is ours for an extraordinary sister, mother, grandmother, and friend.
Memorial service will be held on Saturday, November 23, 2019 at 11:00 AM at Helweg & Rowland Funeral Home, 1059 Old York Road, Abington, PA, where relatives and friends will be received from 9:30 AM until the time of service. Interment will be held privately. All are welcome to join the family at a reception after the service.
In lieu of flowers, please consider donating to our local County Meals On Wheels Program at http://www.montcosaac.com/mealsonwheels.htm.