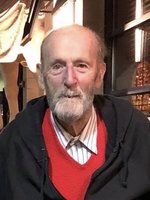 Albert Russell
Albert Russell, age 90, of Ardsley, died on November 5, 2019. He was the beloved husband of the late Janice Wandel Russell.
He is survived by his loving children; Tracey M. and Gary Christy and Dale A. Russell; by his grandchildren, Gary and Shannon Christy and Jason Christy; and by his three dear great- grandchildren, Gary Christy, III, Dante James Christy and Jada Lynn Christy.
Funeral service will be held at 11:00 AM on Tuesday, November 12, 2019, Helweg & Rowland Funeral Home, 1059 Old York Road, Abington, PA, where relatives and friends will be received from 10:00 AM until the time of service. Interment will be in North Cedar Hill Cemetery.
In lieu of flowers, memorial contributions may be sent to Alzheimer's Foundation of America, 322 Eighth Avenue, New York, NY 10001 (www.alzfdn.org/donate).