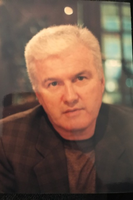 William J. Walsh
William J. "Bill" Walsh, Jr., age 72, a resident of Philadelphia, died on October 30, 2019. He was the devoted and much loved husband of Arlene Carr Walsh.
Born in Philadelphia, Bill was the son of the late William J. Walsh, Sr. and the late Eleanor Harron. He graduated from Father Judge High School in 1965 and is a veteran of the United States Air Force. Bill was an Executive at One Hour Messenger, from which he retired in 2013. He was a member of USA Hockey.
Bill enjoyed traveling, reading, sports and beer.
In addition to his wife, he is survived by his loving children and their spouses: Ian Walsh (Margo) and Brea Walsh Read (Ian); by his two grandchildren, Clarke Walsh and Oliver Read; and by his siblings, Patricia Walsh, Bernadette Rossetti and Michael Walsh (Peggy).
Memorial service will be held privately.