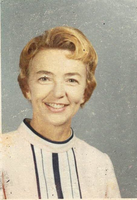 Claire Harvey Pretsch
Claire Harvey Pretsch, a resident of Willow Grove for the past 64 years, died on October 18, 2019. She was 94 years young. Claire was the beloved wife of the late Raymond N. Pretsch until his death in 1978. Born in Chester, PA she was the daughter of the late Philip Harvey and the late Edith Shurter Harvey.
After graduating from Abington High School, Claire earned her degree in Journalism from Penn State University and later earned her Master's degree in Education from Beaver College, now Arcadia University. She was a member of PSEA (Pennsylvania State Education Association)
Her entire 29 year career as an Educator was with the Upper Moreland School District. She was a 2nd grade teacher beginning at Woodlawn Elementary School and then at Cold Spring Elementary School. She retired in 1992.
She enjoyed traveling abroad and spending time at the New Jersey beaches in the summertime. Her greatest joy was her family, especially her dear grandchildren.
She is survived by her loving children and their spouses; Donna and Alan Farley and Doug and Mary Pretsch, by her adoring grandchildren and their spouses: Scott Farley, Brook and Luke Sheble, Lindsey and Jake Baranik and David Pretsch. She was preceded in death by her son, Larry Pretsch, by her sister, Phyllis Gock and brother, Philip Harvey.
A memorial gathering will be held, for information about the gathering please contact the family.
She will be fondly remembered and her "class is now dismissed".
Memorial contributions may be sent to Breathing Room Foundation, 600 West Avenue, Jenkintown, PA 19046 (www.breathingroom.org) or to Children's Hospital of Philadelphia, Child Life therapy Department, 3400 Civic Center Blvd., Phila., PA 19104 (www.chop.edu)