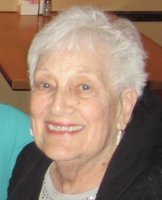 Helen M. Wenstrup
Helen Wenstrup, much beloved wife, mother, grandmother, great grandmother, aunt, neighbor, and friend, passed away with family by her side at age 91 on October 2, 2019. She is survived by her devoted husband of 38 years James Wenstrup, her sons Stephen (Kathleen) Tranquillo and Robert (Amy) Tranquillo, her step-daughter Joy (Bill) Dannenberg, her step-sons Keith Wenstrup and Brian (Jill) Wenstrup, 12 grandchildren and 1 great granddaughter.
Helen Mary Sebastian was born to Rose and Tom on January 18, 1928 and raised in South Philadelphia with her two older brothers, Pete and Nick. She attended West Catholic Girls High School. She moved to Rydal, PA and raised a family with her first husband Vince Tranquillo who passed away in 1972. In 1981 she was married to Jim Wenstrup, and the two of them made a home, and many new friends, in Granite Falls, NC. In 2016 Helen and Jim returned to the Philadelphia area where they were able to be closer to family.
She enjoyed music (especially Frank Sinatra), dancing, roller skating, cooking, baking, sewing, crafts, gardening, volunteering, walking with friends, and travel (especially to the Jersey shore). Most of all Helen treasured the time she spent with her family.
Helen handled all of her challenges with grace and conducted herself with dignity. With a zest for life she always had a smile on her face, and with her wit and sense of humor put a smile on the faces of all who were blessed to know her.
Now, Helen is gone on to Glory with all the saints before her.
Funeral Mass will be celebrated on Saturday November 2, 2019 at Saint Hilary of Poitiers Church, 910 Susquehanna Road, Rydal, PA, where relatives and frinds will be received from 10:00 AM until the time of the mass.
In lieu of flowers, please make a contribution honoring her memory to a charity of your choice.