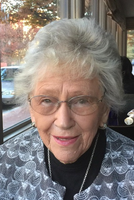 June L. Waltzer
June L. Waltzer, age 92, a resident of Gwynedd Estates and formerly of Wyncote, PA for 46 years, died on September 27, 2019. She was the devoted wife of the late Frederick N. Waltzer, M.D. for 46 years.
Born in Shamokin, PA, June was the daughter of the late Peter James Lytle and the late Martha Olive Kaseman Lytle.
June graduated from Shamokin Area High School in 1944 and later attended Ursinus College. She was a member of Abington Presbyterian Church for 66 years. She enjoyed volunteering for The Philadelphia Orchestra and Abington Memorial Hospital.
In addition to volunteering, June enjoyed knitting, gardening, bird watching, reading, the beach, classical music, traveling, jigsaw puzzles, playing piano and bridge. She also was a Phillies and Eagles fan.
She is survived by her loving children; Brad and Jennifer (Fisher) Waltzer, E. Gregory and Hong (Zhang) Waltzer, Gail Waltzer, Joy Waltzer Price and Jeff Waltzer; and her four dear grandchildren; Dylan Price, Silas Waltzer, Talia Waltzer and Audrey Waltzer.
Memorial service will be held at 11:00 AM on Saturday, October 5, 2019, Gwynedd Estates, 301 Norristown Road, Ambler, PA 19002, where relatives and friends will be received from 10:30 AM until the time of the service. Interment will be private. In lieu of flowers, memorial contributions may be sent to The Philadelphia Orchestra Annual Fund, 1 South Broad Street, 14th Floor, Philadelphia, PA 19107.