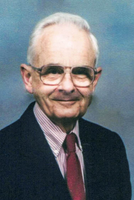 Francis C. Hartung, Jr.
Francis C. Hartung, Jr., age 92, a former engineer and retired Captain in the U.S. Navy died at Spring House Estates, a retirement community in Lower Gwynedd, PA. He was the beloved husband of Cynthia Collins Luden for nine years. His first wife of 52 years, Mary Elizabeth "Mary Betty" Christian Hartung preceded him in death in 2002.
Frank grew up in the Mount Airy section of Philadelphia and summered in Ocean City, New Jersey. He attended and graduated from Germantown Friends School in 1945. After high school he enlisted in the U.S. Navy and, as a member of the Navy V-5 program, attended the University of Richmond and Duke University before earning a Bachelor of Engineering degree from Yale University in 1949. He then did graduate work at the Wharton School of the University of Pennsylvania. After college he returned to active duty in the Navy for four years and then spent many years in the reserves until he retired.
Frank worked for 32 years at GlaxoSmithKline pharmaceutical laboratories, holding many jobs in design, plant and industrial engineering and also production. He retired in 1986.
He was an active member of St. Paul's Episcopal Church in Elkins Park and later of St. Peter's Episcopal Church in Glenside. He served both churches as a vestry member, warden and lay reader.
Frank enjoyed sports, travel, model railroading, doll house building, gardening and watching his five grandchildren at dance and music recitals and sports events.
In addition to his wife, he is also survived by his loving children and their spouses; Mary E. "Missy" and Skip DiMassa and Robert "Bob" and Wendy Hartung; by his five dear grandchildren and two great-grandchildren; by his sister, Margaret Hitt and his cousin, Richard Hartung.
Relatives and friends are invited to attend his memorial service at 11:00 AM on Tuesday, September 17, 2019, St. Peter's Episcopal Church, 654 N. Easton Road, Glenside, PA 19038, where relatives and friends will be received from 9:30 – 10:50 AM. Interment in St. Paul's Episcopal Church Cemetery was held privately.
In lieu of flowers, memorial contributions in his memory may be sent to St. Peter's Episcopal Church at the above address or to Germantown Friends School, 31 W. Coulter Street, Philadelphia, PA 19144.