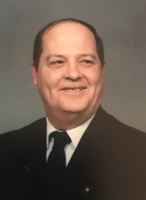 Gifford Wheeler Abbott Jr.
Gifford Wheeler Abbott, Jr., age 70, a 10 year resident of York, PA died on August 16, 2019.
Born in Philadelphia, Gifford was the son of the late Gifford W. Abbott, Sr. and the late Harriet J. Williams Abbott. He enlisted in the Marine Corps during his senior year of high school. After returning home and receiving a Purple Heart, he completed his senior year at Abington High School and received his diploma.
He was an entrepreneur in the printing business, from which he retired in 2014.
Gifford was a member of the Jenkintown Methodist Church. He was an Eagles fan and also enjoyed trains, fishing, traveling and spending time with his family.
He is survived by his sisters; Beverly J. Grove and Joyce A. McCauley and by his nieces and nephew: Julie Grove, Kate McCauley, Jodie Grove and James McCauley, III.
Funeral service will be held at 11:00 AM on Thursday, August 22, 2019 at the Helweg & Rowland Funeral Home, 1059 Old York Road, Abington, where relatives and friends will be received from 10:00 – 11:00 a.m. Interment will be in Hillside Cemetery.
In lieu of flowers, memorial contributions may be sent to VFW, 333 Eberts Lane, York, PA 17403 (www.heroes.vfw.org).