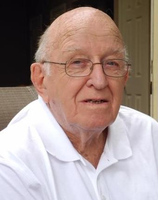 Arthur Clarke Argue, Jr.
Arthur Clarke Argue, Jr., age 97, a resident of Spring House Estates for 16 years and formerly of Hatboro, PA died on August 12, 2019. He was the devoted husband of the late Norah Shields Argue for 52 years, until her death in 1996.
Born in Jenkintown, Arthur was the son of the late Arthur Clarke Argue, Sr. and the late Isabelle M. Dodds Argue. After graduating from Jenkintown High School in 1940, he attended Drexel University. Arthur began his military service with the United States Army – Rainbow Division in 1943. He received a Bronze Star for his service in France and Germany during the Battle of the Bulge and liberation of Dachau concentration camp and was honorably discharged in 1945.
Art enjoyed golfing, sketching, water color painting and woodworking.
He was also a member of the Jenkintown Rotary from 1953-2019 as well as Jenkintown Lyceum and VFW. He also volunteered for Bux-Mont Meals on Wheels and served on their board.
He is survived by his loving children and their spouses: Clarke and Lois Argue of Marlton, NJ and Sue A. and Harry Rieck of Harleysville, PA; and by his two grandchildren Bryan Argue and Leanne Chacon, and three great-grandchildren. He was preceded in death by his siblings: Donald Argue and Isabelle Argue.
Memorial service will be held at 2:00 PM on Sunday, August 25, 2019, Auditorium of Spring House Estates, 728 Norristown Road, Lower Gwynedd, PA, where relatives and friends will be received after the service. Interment will be private.
In lieu of flowers, memorial contributions may be sent to Bux-Mont Meals on Wheels, 414 S. York Road, Hatboro, PA 19040 or ACTS Legacy Foundation - Spring House Estates (SHE) Samaritan Fund, Attn: Tracey Shelton, 728 Norristown Road, Lower Gwynedd, PA 19002.