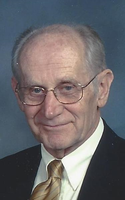 Andrew Jackson Nehlig, III
Andrew Jackson Nehlig, III, age 91, a resident of the Rydal Park Retirement Community for the past 15 years and formerly of Willow Grove, PA, Ambler, PA and Huntingdon Valley, PA died on August 13, 2019. He was the devoted husband of Roberta Wolff Nehlig for nearly 63 years.
Born in Philadelphia, Andrew was the son of the late Andrew J. Nehlig, II and the late Helen Gilmer Nehlig. After graduating from Abington High School in 1946, he attended Temple University, from where in 1950, he earned a BS degree in Business. In 1950, Andrew began his military service with the US Army during the Korean Conflict. He was honorably discharged in 1952.
Andrew was the owner of Pedco-Hill, a silk screen printing business located in Ambler, from where he retired in 1995.
He was a member of Abington Presbyterian Church and enjoyed volunteering for the American Red Cross and the American Cancer Society. Andrew also enjoyed gardening and will be remembered for his great sense of humor.
In addition to his wife, he is survived by his loving children and their spouses: Andrew and Madeleine Nehlig, John and Deborah Nehlig and James and Ruth Nehlig; by his ten grandchildren and three great-grandchildren. He was preceded in death by his siblings: Jane, Mae and Elenor.
Memorial service will be at 11:00 AM on Saturday, September 21, 2019, Auditorium of Rydal Park, 1515 The Fairway, Jenkintown, PA, where relatives and friends will be received after the service. Interment will be private.
In lieu of flowers, memorial contributions may be sent to Abington Presbyterian Church, 1082 Old York Road, Abington, PA 19001.