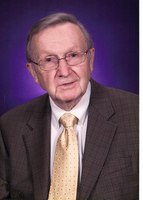 Robert N. Young, Sr.
Robert N. Young (Bob), 92, of Jenkintown, PA, originally of Wissanoming, and later of Ambler died peacefully on June 18, 2019. He is survived by his wife of 59 years, Carol Wrigley Young, his three children Neil (Kelly), Betsy (Gilbert), Edward (Jessica), grandchildren Jason, Lindsay (Kristie), Evan, Michael (Samantha), Kaitlyn, Laura, Tara, and great-grandchildren Shawn, Kaylin, and Kenzie, as well as niece Susan Smith and nephew William Smith. His parents were Sara Rice Young of Ohio and Robert Young of Cloughmills, Antrim, Northern Ireland.
He was a World War II veteran, serving in the 71st Division in the European theatre. He was a lifelong active Presbyterian, serving as Elder, Deacon, Treasurer, Stewardship Chairman, and Youth Advisor. His interest in Scouting lasted for his lifetime, first as a Boy Scout, becoming a Scoutmaster at the age of 15 at the start of World War II and continuing as an Assistant Scoutmaster later with Troop 546 in Jarrettown. He was an aviator, becoming a licensed private pilot maintaining his license until the age of 75. Bob was a member of the Union League for more than 50 years, and a member of the Pastorius Club and St. Andrews Society.
Bob was a graduate of Northeast High School, and the University of Pennsylvania, earning his BS from Wharton in 1950 and his MBA from Wharton in 1979. After graduation he began his career at DuPont, then Ernst & Ernst, moving to Curtis Publishing Company, Kellett Aviation in Willow Grove, and finally to Delbar Products in Perkasie, starting as Chief Financial Officer, serving in Treasurer and Comptroller positions, and ultimately part owner. He remained on the board of directors for an additional two years after his retirement.
Bob spent his retirement actively involved in golfing, hiking, flying, and traveling the world with his wife, Carol. He was active with Northwest Philadelphia Interfaith Hospitality Network since its inception, providing auditing and financial services as well as direct hospitality services.
He was the embodiment of a loving husband, father, civic community member, and Christian. He will be missed and loved by all.
Memorial Services will be held on Saturday, June 22, 2019 at 11:00 a.m. at Grace Presbyterian Church, 444 Old York Road, Jenkintown, where friends will be received after the service.
In lieu of flowers, memorial contributions may be sent to Philadelphia Interfaith Hospitality Network 7047 Germantown Avenue Philadelphia, PA 19119 or Grace Presbyterian Church, 444 York Road, Jenkintown, PA 19046.