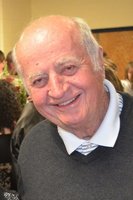 Robert Louis Miller
Robert Louis "Bob" Miller, age 84, a 34-year resident of Maple Glen, PA, and formerly of Willow Grove, PA, died on May 2, 2019. He was the beloved husband of Barbara Miller for 65 years.
Born in Philadelphia, PA, Bob was the son of the late Clarence John Miller and the late Elizabeth Storch Miller. After graduating from Abington High School in 1952, he attended Lehigh University.
Bob retired just last year as owner and salesman for AM Inc., in Maple Glen, PA. He enjoyed the long-term relationships that he developed as well as driving around the Philadelphia area. He was a faithful member of Abington Presbyterian Church for 67-years, where he served as Deacon, Elder and Trustee.
Bob was an avid golfer, regularly playing at least four rounds of golf a week at Old York Road Country Club, where he and Barbara were members for 38 years. Bob always had a tally in his head of each member of the foursome's score and he could tell you about each of your shots better than you could remember them. Bob ensured that his sons and family members who learned to golf alongside of him knew and followed the rules and etiquette for the game. When he wasn't golfing, he was a bowler and also enjoyed traveling.
But his greatest joy was his family. In addition to his wife, he is survived by his sons and their spouses; Robert, Jr. (Kathy) Miller of West Chester, PA, D. Wayne Miller of Maple, Glen, PA, and David (Susan) Rowland Miller of Perrysburg, OH, and by his dear grandchildren: Rebecca Miller (Eric Eschborn), Hannah Miller (Peter Travers), Joshua Miller (Carly Kalinkos), Nathan Rowland Miller and Julianne Rowland Miller. He was preceded in death by his son, Richard John Miller, sisters, Elizabeth Miller and Dorothy Miller, and by his brother, Clarence John "Jack" Miller.
Memorial Service will be held at 11:00 AM on Thursday, May 9, 2019, Abington Presbyterian Church, 1082 Old York Road, Abington, where friends will be received at a reception after the service. Interment will be private.
In lieu of flowers, memorial contributions may be sent to Abington Presbyterian Church Memorial fund or the Visiting Nurses Association of Greater Philadelphia, 3300 Henry Avenue, Suite 500, Philadelphia, PA 19129-1121 (www.vnaphilly.org).