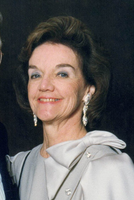 Margaret Mary "Peggy" Huck
Margaret Mary "Peggy" Huck (neé Redmile) age 85, a resident of Warminster died on March 31, 2019. She was the devoted wife of the late George F. Huck, Jr. M.D.
She is survived by her loving children and their spouses: G. Brian and Lori Huck, Mary Ann and Scott Hardy, Margaret M. and Joe Gombeda, J. Gary and Beth Huck, Kathryn E. Huck and Jacqueline and Matthew Fad; by 8 grandchildren and by her sister, Jacqueline Margetts.
Funeral Mass will be celebrated at 10:30 AM on Friday, April 5, 2019, Immaculate Conception B.V. M. Church, 606 West Ave. Jenkintown, PA where relatives and friends will be received from 9:30 – 10:30 AM. Interment will be in Holy Sepulchre Cemetery.
In lieu of flowers, memorial contribution may be sent to Abington Hospice at Warminster, Abington Health Foundation, P.O. Box 569, Phila., PA 19105-9863
(give.abingtonhealth.org/hospice)