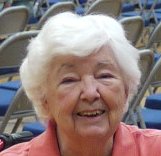 Mary Ellen Gallagher
Mary Ellen Gallagher, beloved mother and grandmother, longtime resident of Chatham, NJ, passed away on January 22 at the age of 92. Born in Hammond, IN to Mary (Evans) and Bernard Rodman, she was raised in Marktown, East Chicago, IN. She graduated from Catholic Central High School (now Bishop Noll Institute), where she was an athlete, a member of the Civil Air Patrol and valedictorian of her class. After attending secretarial school, she worked for Sinclair Refining, where she met her future husband, John W. Gallagher. After their marriage, they relocated to NJ, living first in Elizabeth, then moving in 1956 to Chatham, where they raised their family. She relocated to Jenkintown, PA in 2015.
Mary Ellen worked as a legal secretary for several years before working at Sandoz, Ciba-Geigy and later Novartis as a data analyst. After retiring from Novartis, she worked at Ingenix as a data analyst. While at Ciba, Mary Ellen earned her Associate's Degree in Business Administration at the County College of Morris in 1983.
Mary Ellen loved to travel, and her sense of adventure took her abroad to Portugal, England, Ireland and Canada. In the US, she enjoyed visiting National Parks, including Great Smoky Mountains, Acadia, Cape Cod National Seashore, Mammoth Cave, Denali, Glacier Bay, Hawaii Volcanoes, Pearl Harbor, Yosemite, Grand Teton, Redwood Forest, Yellowstone, Grand Canyon, Monument Valley, Mt. Rushmore, and the Badlands. She visited Alaska multiple times, once to see the brown bears, and Canada to see the polar bears.
Mary Ellen was predeceased by her son Brian, and is survived by four children: Kathy Gatewood (Lee) of North Chatham, MA; Tom Gallagher (Nancy) of Lake Zurich, IL; Trish Gallagher (Rick Ferry) of Glenside, PA; and Sheila Gallagher (Joe Jagiello) of Morris Plains, NJ. Mary Ellen was a loving grandmother to Andrea Bellavia (Seva Trakhtman), Drew and Blair Gatewood, Kevin and Kyle Gallagher, and great -grandmother to Logan and Stella Trakhtman. She also leaves a niece and nephew.
A memorial service will be held Saturday, February 23, at 11:30 a.m. at the Presbyterian Church of Chatham Township, 240 Southern Blvd., Chatham Twp., NJ, with a reception immediately following. Memorial contributions may be made to the Bishop Noll Institute, 1519 Hoffman St., Hammond, IN 46327. www.bishopnoll.org