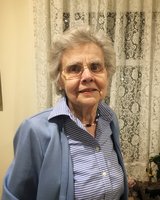 Barbara G. Elliott
Barbara G. Elliott, 87, of Hatboro, PA, formerly of Abington, PA, passed away peacefully on February 9, 2019 after a brief illness. Barbara was born in Hempstead, NY to loving parents William and Elsa Garypie. Barbara enjoyed a long marriage to her dedicated husband Lewis L. Elliott.
Just before Barbara started high school, the family moved to Abington, PA where Barbara's father established Garypie Garden Store. Barbara assisted her father at the store after graduating from Peirce School of Business Administration, and subsequently spent many years managing the day to day operations of the Abington Evening Adult School. Barbara rounded out her career as a secretary at the Upper Moreland Hatboro Joint Sewer Authority, and retired at the young age of 80.
Barbara enjoyed traveling with her family, gardening, painting, reading, crossword puzzles and jigsaw puzzles. She was a long-time member of Abington Presbyterian Church.
Barbara is survived by her daughters Cathy Elliott-Shaw (Richard Shaw) of Bordentown, NJ, June Weishew of Warminster, PA, Judy Dolan of Warrington, PA, Chantelle Bechtel of Sanatoga, PA and her son's wife Linda Elliott; grandchildren Robert, Susan, Donald, Lisa, Jeanie, Dawn, Lori, Greg and Leah, as well as many great grandchildren. Barbara is also survived by her sisters Carol Risko of Dresher, PA and Alice Fernandez of Keystone Heights, FL.
Barbara was pre-deceased by her loving husband Lewis L. Elliott, son Donald Elliott, son-in-law Jim Weishew, and son-in-law Robert Dolan.
Memorial Service will be held on Saturday, February 16, 2019 at 11:00 a.m. at Abington Presbyterian Church, 1082 Old York Road, Abington, where relatives and friends will be received from 10:00 until the time of service. Interment will be private.
In lieu of flowers, memorial contributions may be made to The Village, Garden and Greenhouse Project, Attn: Development, 452 S. Roberts Road, Rosemont, PA 19010.