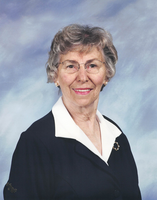 Irma Lamont Atchison
IRMA LAMONT ATCHISON, age 93, a resident of Gwynedd Estates for the past 15 years and formerly of Willow Grove, died on October 27, 2018. She was the devoted wife of the late William A. Atchison.
Born in Philadelphia, PA, she was the daughter of the late William Robert Lamont and the late Irma Kern Lamont.
After graduating from Cheltenham High School in 1943, Irma attended Temple Business School. She was a devoted wife, mother, homemaker and grandmother. Irma worked for Lamont Gear and Machine Co. Phila. After raising her family, she was employed by Montgomery County Adult Training Center in Ardsley, PA. In the early 1970's, she then went to work for Atch-Mont Gear, Inc. in Ivyland, PA, after its founding by her husband, Bill and brother, Bob. Irma retired from Atch-Mont Gear in 1994.
She was a member of Grace Presbyterian Church where she was a Sunday School Teacher, and was a former member of The First Presbyterian Church of Willow Grove (now Warminster Presbyterian Church). She enjoyed ceramics, painting, doll houses and playing cards with various card groups. She was a member of the Gwynedd Estates Chorus.
She is survived by her sons and their spouses: Bruce and Judi Atchison of Pittsburgh, PA and William A., Jr. and Kathy Atchison of Hatboro, PA, by her son-in-law, Paul Grube of Rock Springs, WY, by her brother and sister-in-law, William R., Jr. and Nancy Lamont of Ambler, PA, by her sister and brother-in-law, Carol and Leonard Ottenbreit of Hatboro, PA, and by six grandchildren and six great-grandchildren. She was preceded in death by her dear daughter, Leslie and by her sister and brother-in-law, Jean and Dick McFetters.
Memorial Service will be held at 11:30 AM on Saturday, November 3, 2018 in the Auditorium of Gwynedd Estates, 301 Norristown Road, Ambler, PA. Interment in Whitemarsh Memorial Park will be held privately.
In lieu of flowers, memorial contributions may be sent to ACTS Samaritan Fund, c/o Gwynedd Estates, 301 Norristown Road, Ambler, PA 19002.